Montessori Philosophy
The Montessori Philosophy
Founded in 1907 by Dr. Maria Montessori (1870-1952), Montessori pedagogy educates children for life. Children have the freedom to explore and to develop their own potential as they work with didactic materials, either independently or in groups, in a prepared environment. The Montessori method is based in the concept of respect, for self, others and the environment. The Montessori room is prepared to meet the specific developmental needs of the children during their stay at Barbara House.
The materials and furniture have been adapted to the size of the children. These arouse the curiosity of the children and encourage them to pay attention and concentrate. Each prepared environment includes the full range of Montessori materials and trained Montessori teachers. By working with the materials, mental and manual skills are being built. The children develop self-confidence, respect, sense of order and fun for learning.
In a Montessori school, the outdoor environment is considered as an extension of the indoor environment. This space is not only used during breaks. The outdoor area is also a "working space" which can be used during the Montessori cycle. Throughout the day and under the supervision of an adult, the children can work with different materials outside, work on the flower beds or simply explore nature. Different movement units in our gymnastics room convey an understanding of the movements and regulations of sports.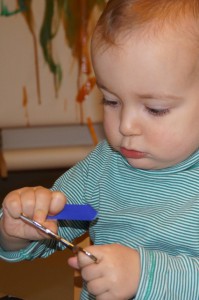 The Montessori teacher promotes activities within the prepared environment and is not the centre of the learning process, but accompanies the child and respects its choice. The observation of children is an essential part of the daily work. From these, the teachers create plans, which meet the individual needs and interests of the child.
Through the introduction to the materials that meet the current development needs and interests, the teachers help the children to reach their full potential. Individual presentations as well as presentations for small groups take turns and are tailored to the specific learning style and leaning pace of each child. Within the mixed-aged group the older children often serve as helpers for the younger ones, with whom they share their experiences. This process does not only help to develop a sense for community and interaction, but also strengthens the previously learned with the older children.
Self-directed actions stimulate trust, acceptance, and a behaviour that is not based on rivalry. The materials, the teacher and the children's community come together to assist the child in developing a strong self-image and sense of self-esteem, which is critical when building an attitude of learning and exploration to last a lifetime.